Investing in our region's roads
About our roads
Almost all journeys start and finish on local roads and they play a major part in everyone's life, whether as a pedestrian, cyclist, bus passenger, freight operator, driver or passenger.
We all rely on a well-functioning road network to access jobs, goods and services. Investment in and better management of our roads has a vital role to play in providing a sustainable transport system.
Major Road Network
As the sub-national transport body for our region, we've been tasked with providing advice to government on the South East's investment priorities for the Major Road Network (MRN). The MRN was established by government to support a dedicated national investment programme for the country's busiest and most economically important local authority 'A' roads.
With £3.5 billion available from the National Roads Fund for the 2020-25 period, we've worked with our partners to ensure that investment in the South East goes where it is needed most.
We did that by working with our partners to consider which schemes can be delivered by 2025 and provided evidence they will reduce congestion, support housing and employment growth, encourage more people to walk, cycle and use public transport, and provide better links to motorways and major trunk roads.
Our bid, submitted in July 2019, included ten Major Road Network (MRN) schemes and seven Large Local Major (LLM) schemes, backed up by a regional evidence base to support the case for investment and enable development of a pipeline of schemes for future funding periods.
In January 2022, the Department for Transport requested that all sub-national transport bodies review their schemes. This left eight MRN priority schemes and five LLM priority schemes. To date two of the MRN schemes have proceeded to construction and a further two MRN and one LLM schemes that we submitted for funding in 2019-20 have now received the green light and funding to proceed to the next stage of development.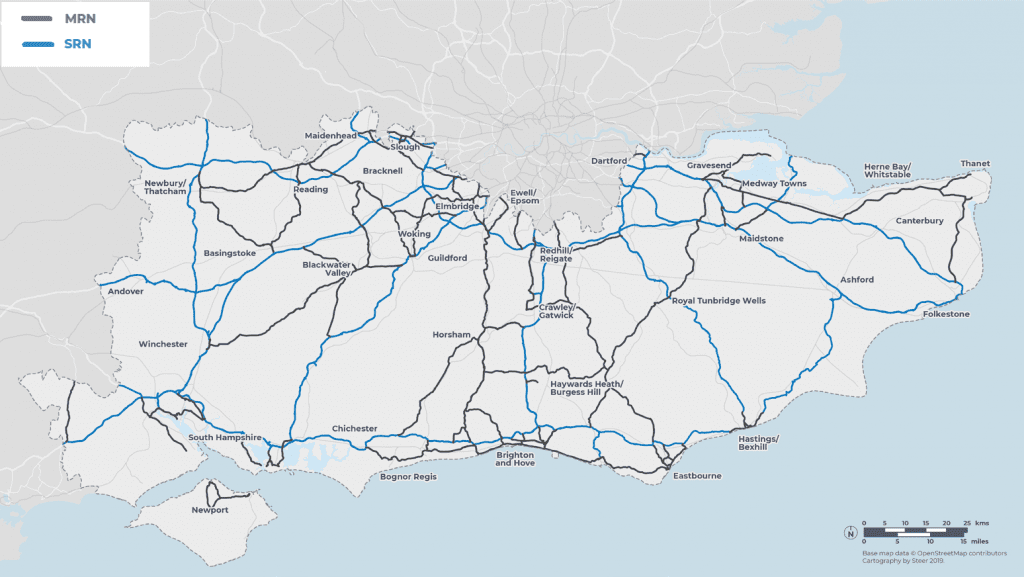 MRN priority schemes
Northam Rail Bridge Replacement and Enhancement (Southampton City Council)
A284 Lyminster Bypass (West Sussex County Council)
Redbridge Causeway (Hampshire County Council)
A22 Corridor Package (East Sussex County Council)
A259 (King's Road) Seafront Highway Structures Renewal Programme (Brighton & Hove City Council)
A28 Birchington, Acol and Westgate-on-Sea Relief Road (Kent County Council)
A259 Bognor Regis to Littlehampton Enhancement (West Sussex County Council)
A259 South Coast Road Corridor (East Sussex County Council)
LLM priority schemes
West Quay Road Realignment (Southampton City Council)
A326 Capacity Enhancement (Hampshire County Council)
City Centre Road (Portsmouth City Council)
A229 Blue Bell Hill Junction Upgrades (Kent County Council)
A31 Farnham Corridor (Surrey County Council)
Strategic Road Network
England's second Road Investment Strategy (RIS2) will see a record £27 billion invested in the Strategic Road Network (SRN) between 2020 and 2025. RIS2 outlines the SRN improvement schemes that will be developed, constructed or completed between 2020 and 2025, as well as a pipeline of schemes for RIS3 (2025-2030).
Of the 16 priority schemes Transport for the South East submitted for consideration as part of RIS2, three have been included in the construction programme. A further eight were identified as 'pipeline' schemes to be developed for consideration in RIS3.
We will continue to work with our local authority partners, National Highways and the Department for Transport to ensure schemes are developed and delivered on time.
You can read the RIS2 here.
Priority SRN schemes approved for construction in 2020-25:
Lower Thames Crossing: A new crossing of the River Thames between Kent and Essex, together with supporting roads linking to the M25, A13 and M2.
A27 East of Lewes: Improvements to the A27 between Lewes and Eastbourne, including improvements to junctions around Eastbourne, dualling south of the Polegate roundabout and new facilities for cycling and walking.
A27 Worthing & Lancing: A package of enhancements between Worthing and Lancing to improve the capacity and flow of traffic.
What is the Strategic Road Network?

The SRN in England is around 4,300 miles long and is made up of motorways and trunk roads, the most significant 'A' roads. Unlike the MRN and other local authority roads, the SRN is managed by National Highways – which is why it's so important that we work in partnership with them.

The SRN represents around 2% of all roads in England by length, but it carries a third of all traffic by mileage. Two-thirds of all HGV mileage in England is undertaken on the SRN.