Freight, logistics and international gateways
The UK's principal gateway for people and goods
From cars made in the Midlands to Scotch whiskey and Welsh steel, goods worth hundreds of billions are exported each year from the South East's ports, airports and international rail connections to all four corners of the globe. These busy international gateways also support the movement of millions of people between the UK, Europe and the rest of the world.
Our freight, logistics and international gateways strategy will identify what investment is needed to better connect our region's ports, airports and international rail links, supporting sustainable economic growth here in the South East and across the UK.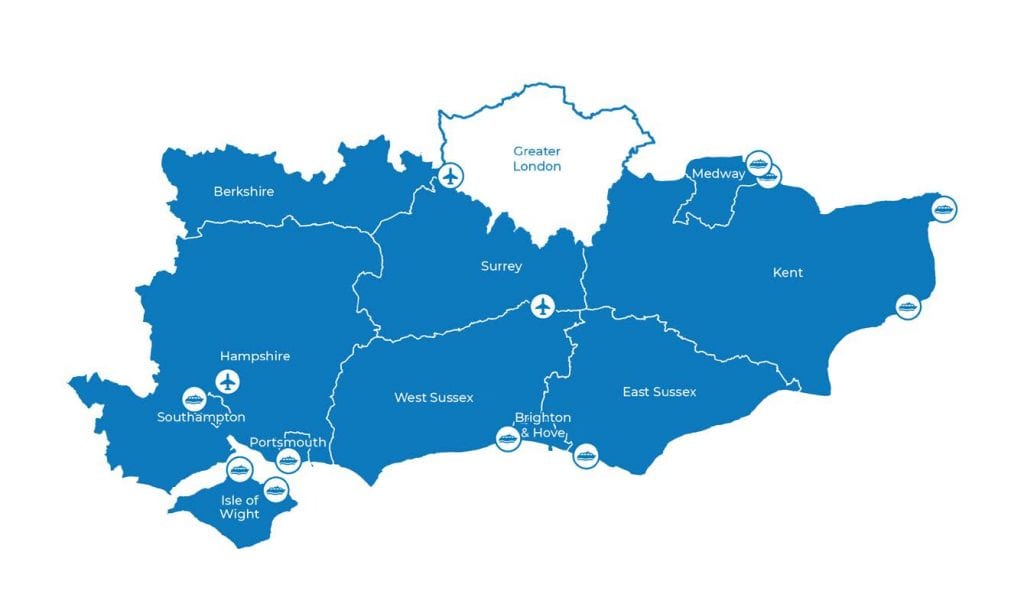 Nearly 15% of all UK trade passes through the Port of Dover, Europe's busiest ferry port
Air freight at Heathrow alone accounts for 31% of the UK's non-EU trade by volume
Port of Southampton is the UK's principal port for non-EU exports, handling goods worth more than £70bn a year
Nearly 50 million passengers use Gatwick Airport each year, making it the second-busiest single runway airport in the world
More than 20 million passengers a year travel between the UK and Europe on Eurostar and Eurotunnel shuttle services, alongside 23 million tonnes of freight
Supporting UK investment
The South East is the UK's window on the world, offering unparalleled reach and access to global markets. It's why investment in the South East is a powerful enabler for growth across the UK, supporting the money already being spent in the Northern Powerhouse and Midlands Engine to ensure those areas have strong access to supply chains and consumers across the world. And it's why investment in a better transport network is so important for people not just here in the South East but across the UK.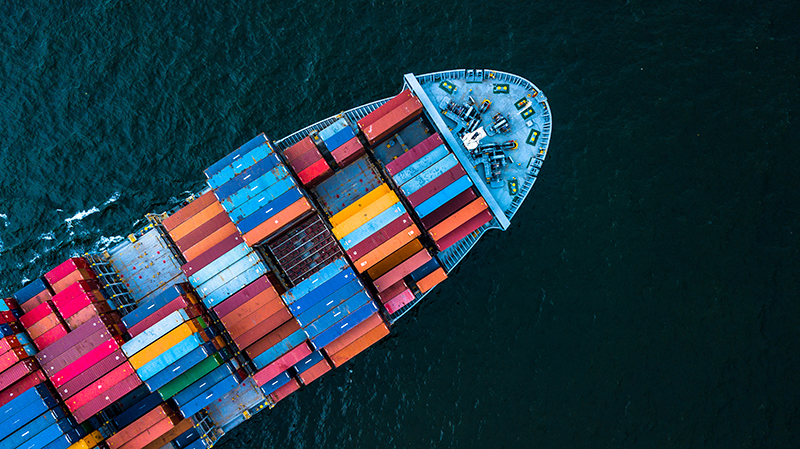 Much processing of freight in the UK occurs in the "golden triangle" – an area in the Midlands where there is a particularly high concentration of national distribution centres (where freight is processed and distributed to regional networks). It is quite common for freight to arrive into the UK in the South East, be transported to the Midlands for processing, and then return to the South East for regional distribution.
This means that the road and rail routes that connect the South East to the Midlands and North of England are particularly important for freight. It also means we need to work closely with other sub-national transport bodies so that future investment is planned in a co-ordinated way across the country.
The South East contributes more to the national economy than any region outside London and is our country's main international gateway for people and goods. That's why we need to see increased investment in our transport infrastructure, growing the economy and creating jobs here in the South East and supporting the investment already taking place in other parts of the country.

Cllr Keith Glazier, chair of Transport for the South East
Freight, logistics and international gateways steering group
Department for Transport
Highways England
Network Rail
Road Haulage Association
British Ports Association
Heathrow Airport
Gatwick Airport
Associated British Ports (ABP)
Logistics UK
UK Warehousing Association
Solent Transport
University of Kent
Kent Police
Local transport authorities x2
Freight, logistics and international gateways stakeholder forum
Action Vision Zero
Addleshaw Goddard LLP
Bournemouth, Christchurch & Poole (BCP) Council
Bracknell Forest Council
Brakes
Brighton & Hove City Council
Cabinet Office
Canterbury City Council
Cemex
Channel Ports Ltd
Chartered Institute of Logistics and Transport
Coast to Capital LEP
Confederation of British Industry (CBI)
DB Cargo UK
DP World
East Sussex County Council
Ellis Transport Services
England's Economic Heartland
Enterprise M3 LEP
Fareham Borough Council
Federation of Small Businesses
Frank Armitt & Son Limited
Future City Logistics
Gatwick Diamond Business Initiative
Get Link Group (Eurotunnel)
Hastings Borough Council
HM Treasury
Hutchison Ports UK
Lime Logistics Ltd
London Thamesport
Manor Royal Business District
Medway Council
Network Rail
Peel Ports
Port of Dover
Port of Felixstowe
Port of London Authority
Port of Southampton
Portsmouth City Council
Portsmouth International Port
Project Beyond Consortium
Rail Freight Group
Royal Borough of Windsor & Maidenhead
Reading Borough Council
RiverOak Strategic Partners (Manston Airport)
Royal Mail
South East LEP
SERGO (Slough Trading Estates)Shoreham Port Authority
Slough Borough Council
Solent Gateway Ltd
Solent LEP
South East England Councils
Southampton Airport
Southampton City Council
Surrey County Council
Thames Valley Berkshire LEP
Transport Action Network
Transport East
Transport for London
West Berkshire District Council
West Sussex County Council
Wokingham Borough Council
Zemo Partnership