South central radial area study
The South Central area encompasses the corridors that share the London-Gatwick corridor in the north and fan out in the south to connect much of the Sussex coastline to the capital.
This area stretches from Eastbourne in the east to Chichester and Bognor Regis in the west. It includes the Brighton and Hove built-up area, which is home to nearly half a million people. It also includes Britain's second busiest airport at Gatwick along with the ports of Newhaven and Shoreham.
Study completion: December 2021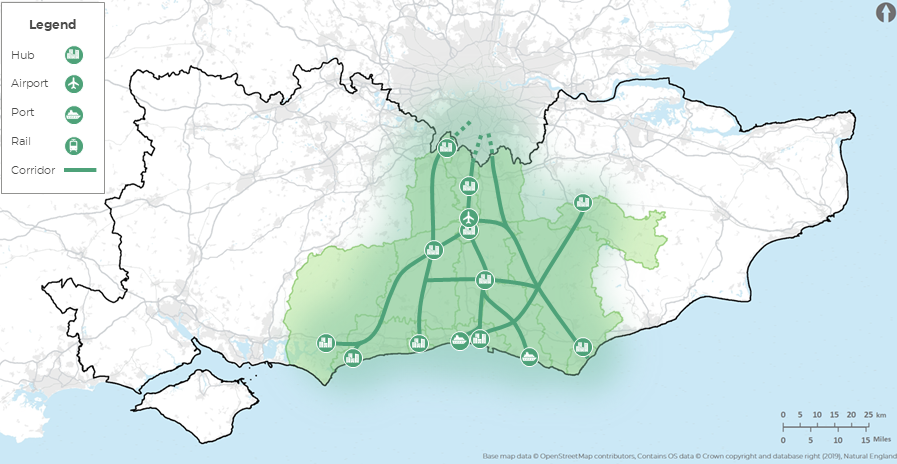 Challenges
Development and economic growth constrained by:

Limited capacity at Gatwick Airport;
Relatively poor resilience, especially on the Brighton Mainline corridor, which should partially be address by the Brighton Mainline Improvement Programme; and
Relatively low frequency and capacity and the Adur Valley Line.

Poor integration of radial and orbital rail, resulting in sub-optimal end-to-end journeys, particularly to and from Gatwick.
Relatively long rail journey times to between London and Eastbourne, Newhaven, Littlehampton, and Bognor Regis.
Opportunities
Rail enhancements could provide:
Improved capacity, reliability and punctuality on the Brighton Main Line (particularly at East Croydon);
Faster journeys along the Arun Valley Line and to coastal communities such as Eastbourne, Newhaven, Littlehampton and Bognor Regis; and
Cross country direct services from Brighton to the Midlands and North of England (avoiding London).