Over 200 delegates attended Transport for the South East's 'Connecting The South East' annual conference on Tuesday 19 September to discuss improving transport infrastructure across the region as well as debating issues such as alternative fuels and active travel.

The event was held at the Amex Stadium in Brighton and brought together representatives from councils, transport providers, politicians and passenger groups from across the region.

Delegates were addressed by Transport Minister Richard Holden MP.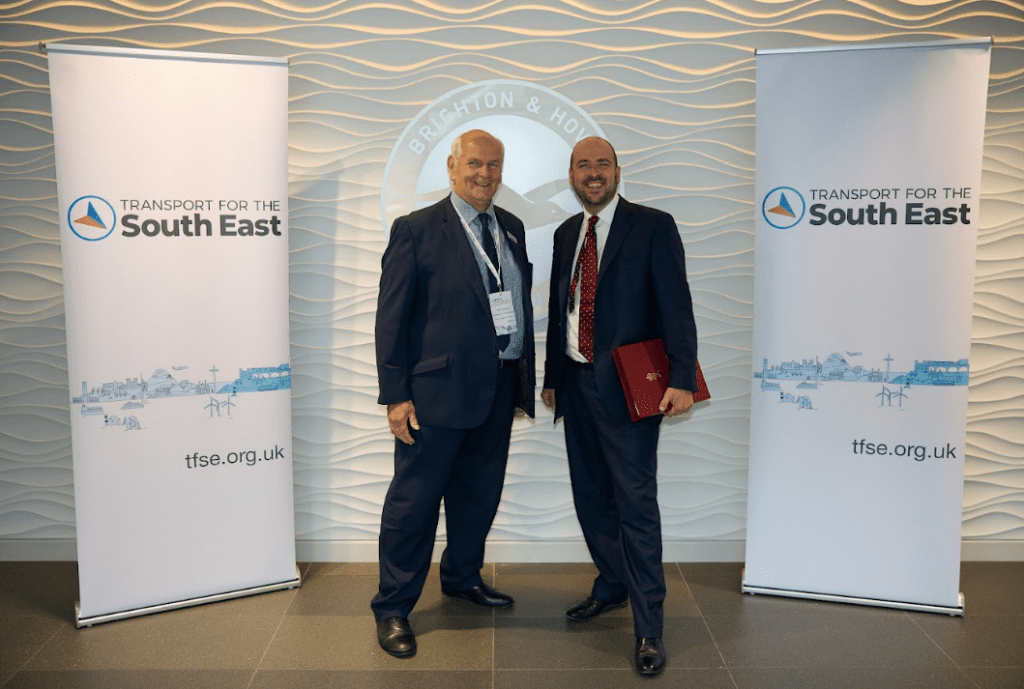 Established in 2017, Transport for the South East (TfSE) is a sub-national transport body and every year brings together key decision-makers at their Connecting the South East event.

TfSE determines what investment is needed to transform the region's transport system and drive economic growth. They work with sixteen local transport authorities, representatives of district and borough authorities, protected landscapes and national delivery agencies.

The south east is a major contributor to the national economy, adding more than £200 billion annually – that's more than Scotland and Wales combined. The regional transport network is nationally and internationally significant: it takes in the country's two biggest airports, many of its busiest motorways, a string of major ports, and crucial railway links to London, the rest of Britain and to mainland Europe.

Transport Minister, Richard Holden MP, said: "The South East is a gateway for economically important freight and passenger travel, so we're committed to ensuring local residents can rely on a world-class transport network.

"I was thrilled to attend the Connecting the South East Conference this week, to understand how the Government can work together with Transport for the South East and local stakeholders to continue boosting transport connections and help better connect communities to grow the economy."

Councillor Keith Glazier, Chair of Transport for the South East,said: "Bringing together key decision makers from across the south east is vital in ensuring that the region has a transport network that is fit for the future. Our Connecting the South East conference did just that and also saw some fascinating debates take place regarding issues that we must get right – such as decarbonisation, active travel and alternative fuels.

"The attendance of Transport Minister Richard Holden MP and his keynote speech shows how important government view the vital role the south east plays in contributing to our national economy. Our work now focuses on delivering our Strategic Investment Plan and working with decision makers and other partners in turning the plan into reality."

The event also featured a demo area where delegates could find out more about hydrogen technology by visiting a hydrogen bus from Brighton & Hove buses, as well as riding e-bikes from Beryl Bikes.