People and businesses in Southampton and the New Forest can look forward to better journeys following confirmation of £13m of government funding for much-needed maintenance upgrades to Redbridge Causeway.
The scheme is one of the top ten priorities Transport for the South East submitted to government for consideration as part of the 2020-25 Major Road Network upgrade programme.
Redbridge Causeway carries roughly 60,000 vehicles a day. The bridges provide important access for local businesses and hauliers to the Port of Southampton and link the New Forest waterside area to Southampton.
Damaged concrete will be repaired and the structures' stabilities improved by the scheme. Department for Transport will provide £13.4m for the work, with the remaining £2.4m being paid by Hampshire County Council.
The investment means more significant works in the future – which would cause greater disruption and delay for motorists – can be avoided.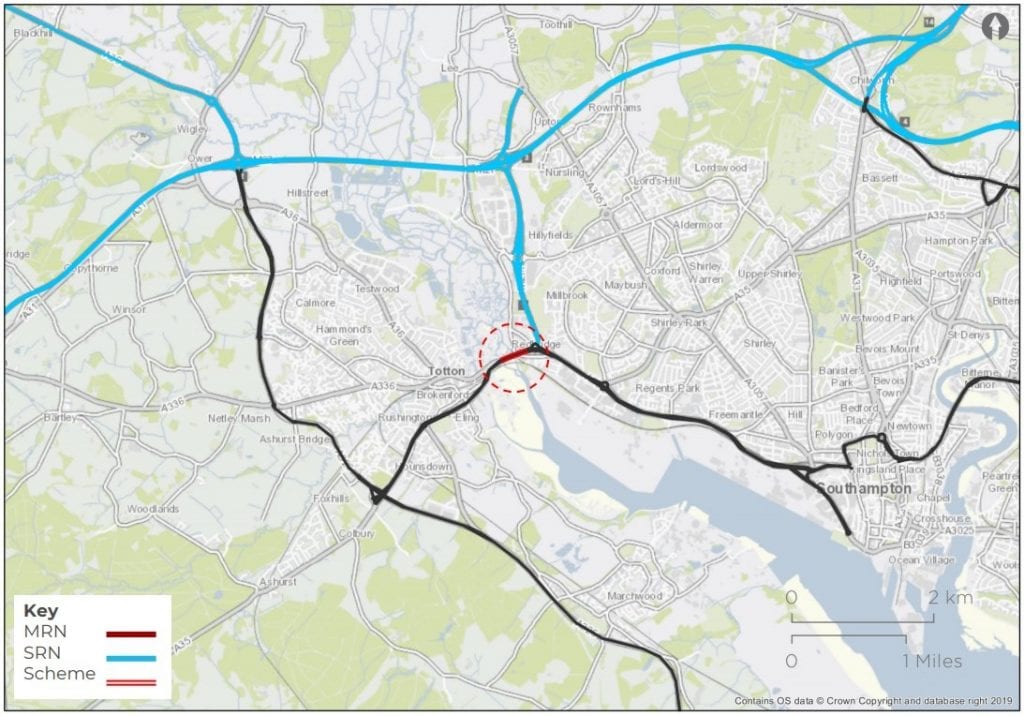 Redbridge Causeway provides a vital connection between Southampton and the New Forest waterside area. This investment will help safeguard it for the future, boosting economic growth and opportunity and supporting new housing and jobs."

Cllr Keith Glazier, chair of Transport for the South East
Councillor Rob Humby, deputy leader of Hampshire County Council and Transport for the South East partnership board member, said: "Redbridge Causeway is a key link between the Port of Southampton and the western side of Southampton Water – an essential route not only for the local economy but also for import and export business affecting the whole of the country and the only direct route for pedestrians and cyclists to cross the River Test.
"I am pleased to hear that our bid for funding to the Department for Transport has been successful and we can continue with vital repairs to this significant part of the area's transport infrastructure."
Cllr Keith Glazier continued: "A high-quality, reliable transport network is critical to our region's economic recovery and future sustainable growth, so it's good news that another of our top priority road schemes will now go ahead.
"By speaking with one voice to influence where and how money is spent in our region, the Transport for the South East partnership is making a real difference for the 7.5m people who live and work in the South East."